Mud pump often encountered failure and treatment

1. Slurry pump failure: Slow pumping water Cause: Large gap between the front liner and the impeller, the water outlet pipe cannot seal the air, empty the full solution: adjust the gap, adjust the outlet pipe, install the vacuum device 2, mud pump failure: Causes of water pump vibration: Concentricity between pump shaft and diesel engine (or motor), imbalance of impeller, bearing damage Solution: Adjust concentricity, balance test for impeller, replacement of bearing 3, mud pump failure: Pump does not absorb water Cause: Insufficient water for perfusion, The air in the pump cannot be discharged, the suction pipe leaks, and the gap between the front liner and the impeller is large. Solution: Continue to infuse diversion, check if the pipeline leaks, and adjust the gap between the impeller and the front liner. 4. The mud pump is faulty: the pressure of the outlet water is small and the flow rate Small reason: There is air in the pump, large gap between the impeller and the front liner, the clutch is not tightly closed, and the impeller or liner wears. Solution: Drain the air in the pump, adjust the gap, adjust the clutch friction plate clearance, replace the impeller or liner 5 , mud pump failure: rapid wear impeller wheel causes: high-pressure pump low head, root dislocation, the pump shaft and the rear cover distracted solution: replace the mud High-pressure pump head pump, replacement packing, adjust concentricity 6, mud pump failure: rapid wear and tear of the pump Cause: poor construction environment (large particles), transmission distance, long inlet pipe Solution: Replace the sand field, add afterburner Units, shorten the inlet pipe length, reduce cavitation

EO Residual Gas Treatment System




The equipment is used to treat the residual gas after EO Gas Sterilization process. It contains spray cabinet, the purifying stuffing absorbing tower, spray circulation pipeline, water collecting tank, storage tank, steam water separator, chillers etc. to achieve the effective absorption of eo gas, to achieve the discharge standards.

Advantage:

Automatic control system :

automatic circularly purifying, automatic adding liquid, automatic acid adding, liquid

conveying and automatic delay function.

Real time monitoring:

Initial concentration of exhaust gas, purification gas emission concentration,

level, pH value and so on. Once purified gas emissions exceeded,

instantly and automatically acousto-optic alarm.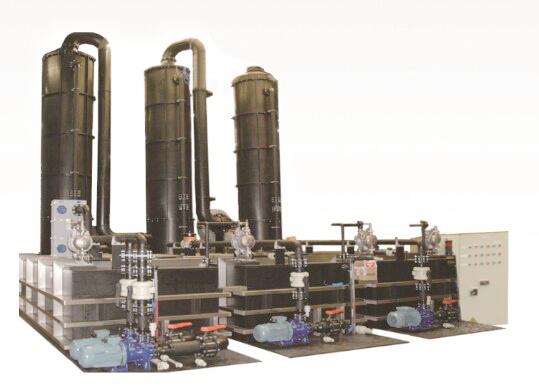 FAQ:

1. Are you a manufacturer?

Yes, we are the professional manufacturer set up in 1992, located at a beautiful town of Zhejiang Province.

2. Can you provide the oversea service?

Yes, after the machines arrive at your factory, we will arrange engineers go to install the machine and train your operators.

3. Can we visit your factory?

Of course. We highly welcome clients come to visit our factory. It will be our great honor to meet you.

4. How can you guarantee the quality?

100% qualified products before the delivery. The clients can inspect the products at our factory.

1 year warranty ( failure caused by machine quality ) from the equipment arrive at the

EO Residual Gas Treatment System

Ethylene Oxide Sterilization,Ethylene Oxide Gas Sterilization ,Gas Sterilization,EO Residual Gas Treatment System

Yuhuan Zhengri Technology Co., Ltd. , http://www.syringemachine.com