Model NO.: TZ unit

Automatic Grade: Automatic

Condition: New

Customized: Customized

Warranty: 12 Months

Place of Origin: Guangdong China (Mainland)

Brand Name: Taizheng

Model Number: Tz Pay-off Unit

Usage: Twisting Machine Pay-off Rack

OEM&ODM: Available

Maintenance: Life Long Term

Delivery Way: LCL or FCL

Weight: 120kg

Size: According to Customers′ Requirement

Installation Video: Provided

Trademark: TAIZHENG

Transport Package: Wooden Box in Export Standards

Specification: CE, CCC, SGS

Origin: China

HS Code: 84772090

Model NO.: TZ unit

Automatic Grade: Automatic

Condition: New

Customized: Customized

Warranty: 12 Months

Place of Origin: Guangdong China (Mainland)

Brand Name: Taizheng

Model Number: Tz Pay-off Unit

Usage: Twisting Machine Pay-off Rack

OEM&ODM: Available

Maintenance: Life Long Term

Delivery Way: LCL or FCL

Weight: 120kg

Size: According to Customers′ Requirement

Installation Video: Provided

Trademark: TAIZHENG

Transport Package: Wooden Box in Export Standards

Specification: CE, CCC, SGS

Origin: China

HS Code: 84772090

No-axis magnetic powder tension pay-off

Features:

1. Magnetic powder tension control to make the wire speed steady with extrusion line.

2. With pneumatic lifting system to save manpower.

3. Main body color are available for customized.

4. Suitable for bobbin size from 400-1600mm

Remarks

Supply-side required dates and docunments(a&b provide within 7 working days after signed the contract, others attcheh when delivery)

A. Full set of equipment installation layout.

B. Water, electricity and gas supply requirements and the amount of interface.

Equipment consumables and wearing parts lists, grades and their origin, vulnerable parts of the provision of spare parts map.

Control components and electrical specifications, models list, Converter Manual.

Electrical schematics, product manual, the ultimate test books, machine operation and maintenance manuals.

Packing List.

Supply-side should provide the service as below: (after deliveryed the machine)

To arrange assistance for installation, adjustment and operating test.

Technician arranged to be guided by supplier when operating the machine

Demand-side should providing facilities and the preparation projects as below: (After deliveryed the machine)

Power source, water source, compressed-air line and related project

Not listed connector device.

Needed materials for product testing.

Statements

We providing OEM/ODM service for customers, with professional Research&Development

Department, experienced designing workteam. Products can be designed according to diffirent

Structures and materials, every products with customized sketch and drawing, welcome to our

Company investigating and establishing cooperation business.

Technique details are confidential for registered trademark, if need more informations please

Send inquiry to us.Specification of bobbinTension
φ400-φ630mm
2.5kg magnetic powder tension
φ800-φ1000mm
5kg magnetic powder tension
φ1000-φ1250mm
10kg magnetic powder tension
φ1250-φ1600mm
20kg magnetic powder tension
No-axis magnetic powder tension pay-off

Features:

1. Magnetic powder tension control to make the wire speed steady with extrusion line.

2. With pneumatic lifting system to save manpower.

3. Main body color are available for customized.

4. Suitable for bobbin size from 400-1600mm

Remarks

Supply-side required dates and docunments(a&b provide within 7 working days after signed the contract, others attcheh when delivery)

A. Full set of equipment installation layout.

B. Water, electricity and gas supply requirements and the amount of interface.

Equipment consumables and wearing parts lists, grades and their origin, vulnerable parts of the provision of spare parts map.

Control components and electrical specifications, models list, Converter Manual.

Electrical schematics, product manual, the ultimate test books, machine operation and maintenance manuals.

Packing List.

Supply-side should provide the service as below: (after deliveryed the machine)

To arrange assistance for installation, adjustment and operating test.

Technician arranged to be guided by supplier when operating the machine

Demand-side should providing facilities and the preparation projects as below: (After deliveryed the machine)

Power source, water source, compressed-air line and related project

Not listed connector device.

Needed materials for product testing.

Statements

We providing OEM/ODM service for customers, with professional Research&Development

Department, experienced designing workteam. Products can be designed according to diffirent

Structures and materials, every products with customized sketch and drawing, welcome to our

Company investigating and establishing cooperation business.

Technique details are confidential for registered trademark, if need more informations please

Send inquiry to us.Specification of bobbinTension
φ400-φ630mm
2.5kg magnetic powder tension
φ800-φ1000mm
5kg magnetic powder tension
φ1000-φ1250mm
10kg magnetic powder tension
φ1250-φ1600mm
20kg magnetic powder tension



Shrink packing machine applications

Widely used in packaging such as glass bottles, plastic foam, paper boxes, toys, electronics, electrical appliances, stationery, books, music, hardware tools, daily necessities, medicine, cosmetics, beverage, fruit, label items s. The heat wrapped products would be much better good looking and more attractive, and good for displaying. Besides it `s moisture proof, dust free, also it enable prevent pollution, and protect the goods from external shocks, especially for fragile goods. In addition, can reduce product are demolished, and the possibility of theft.




Shrink packing machine features

1. Using roller conveyor, roller outsourcing high temperature silicone tube, can freely rotate each, or you can use Teflon or stainless steel mesh conveyor belt conveyor.

2. There is uniform temperature inside the furnace, applicable to shrink PE, PVC, POF shrink film and other various materials.

3. The furnace insulation liner to form a hot air circulation, for different packaging materials packaging needs, adjust the speed of the conveyor belt in order to achieve optimal contraction effect.

4. Have hot air rational allocation, low power capability and ideal even shrink effect.

5. Stainless steel pipe flow conveying (high temperature casing (coat)), to prevent the film sticky, allows the machine more durable.

6. mported motor and available speed control system allows long time continuous packing.

7. Within 0-300 degree range, the temperature adjust freely.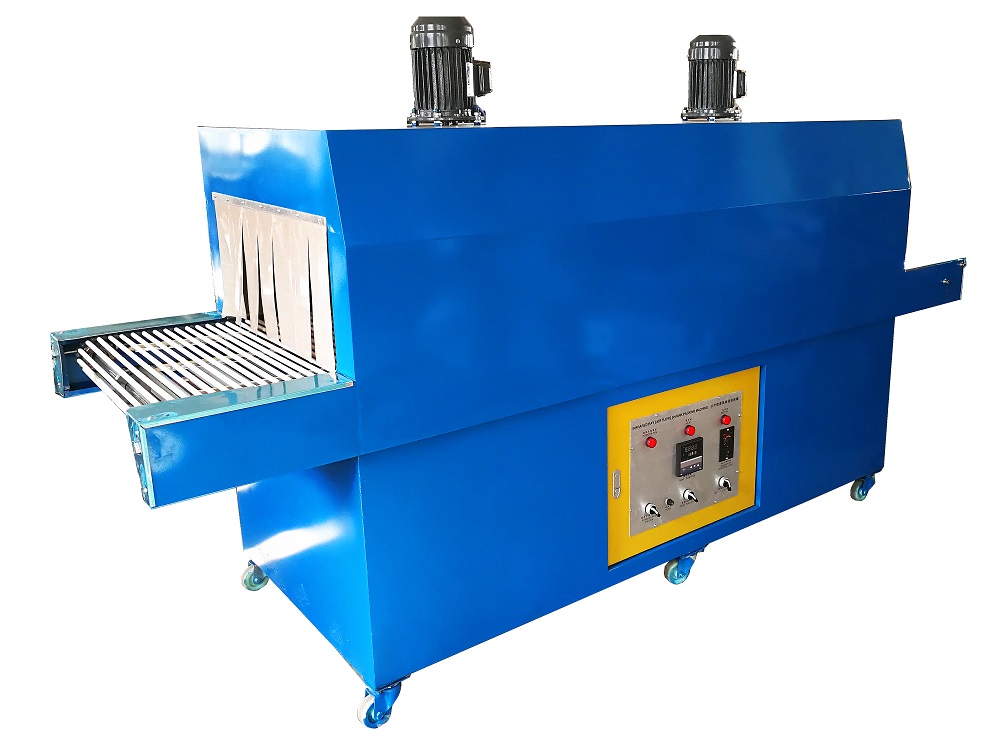 Shrink Packing Machine

Shrink Packing Machine,Shrink Machine,Shrink Wrap Machine,Automatic Shrink Wrapping Machine

ShenZhen Hengxing Machinery Factory , http://www.szchxjx.com